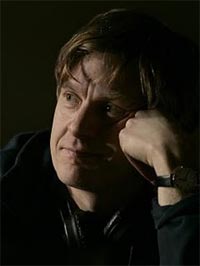 Nearly a year after they first landed on UK television screens, the three feature-length films that comprise the "Red Riding" trilogy have reached American audiences – and in the theatrical environment where they belong, no less.
IFC is marketing and distributing "Red Riding," an adaptation of David Peace's decade-spanning quartet of crime novels inspired by the real-life Yorkshire Ripper murders, as a single theatrical event. The truth, however, is that these are three very distinct, even self-standing, works from three dissimilar directors: Julian Jarrold, James Marsh and Anand Tucker.
Where "Man on Wire" director Marsh's documentary chops are evident in a film that takes on the nuts and bolts of police corruption, and Tucker ("Hilary and Jackie") takes a straightforward character-based approach to tie up loose ends, Jarrold's film, the opener, is the most boldly stylized of the three.
Following young journalist Eddie Dunford (Andrew Garfield) as he probes the disappearance of a young girl and becomes ill-advisedly involved with her grieving mother (Rebecca Hall), the film consciously fuses the languages of film noir and social realism to striking effect.
If it's the most surprising film of the trilogy, that's partly because so little in Jarrold's filmography prepared us for this confident formal leap: an accomplished TV director, he made his feature directing debut in 2005 with the comedy "Kinky Boots," before moving on to a pair of tepid period pieces, "Becoming Jane" and "Brideshead Revisited." Thanks to its crossover media format, however, "Red Riding" afforded Jarrold the best of both worlds.
"From the start, the attraction of the project is that it was both film and television," the London-based director tells me over the phone. "Tony [Grisoni]'s script was very filmic, and I could see that it would have a life on cinema. Reading it, the cinematic devices it prompted – sound design, cinematography, music – made it clear this wasn't another procedural TV drama."
The crossover media format of the project, however, gave Jarrold greater freedom to spread his wings. "With TV, I'd ventured into darker thriller territory before," he says, citing "Never Never," a solemn, BAFTA-nominated miniseries set on a London council estate, as an example. "But with my features, I risked getting typecast as the go-to man for posh period drama. Now, in America, they can see what else I can do."
Jarrold was unfamiliar with Peace's novels when he was invited onto the project, though he soon rectified that. "Peace didn't have quite the cult following he does now. But I was struck immediately by this uncompromising, unflinching journey, with an atmosphere that recalls American crime fiction, and a bleak sense of humor that's very British at the same time. And I loved Eddie, that he's this flawed, cocky guy who discovers humanity in himself."
Jarrold was the first director to claim aboard the project, followed in succession by Tucker and Marsh. From the outset, the three directors had differing visions for their chapters, beginning with the shooting style: Jarrold decided to shoot in 16mm, Marsh in 35mm and Tucker on HD.
"We didn't consciously say, "Let's be different," but it works to the benefit of the film," Jarrold explains. "For me, I wanted the film to evoke my memory of the 1970s, and the graininess of 16mm captures that drab, smoky era. I remain a big champion of film – most TV shot on digital looks awful, just devoid of atmosphere."
By necessity, the directors collaborated in the casting process ("We didn't come to blows, fortunately"), but worked independently for the most part. "The books themselves don't follow on directly from each other, so in a way, it's true to their spirit to have the vision of three different directors."
The storytelling, too, needed to be carefully calibrated, as Jarrold's film opens lines of investigation that are closed in the following chapters. "There was an interesting balance in making an individual film that nonetheless has greater resonance as part of a trilogy. There's a kick for the audience in making the connections between them – like hearing one half of a phone conversation, and later, the other. Poor Anand had the task of tying up all our loose ends."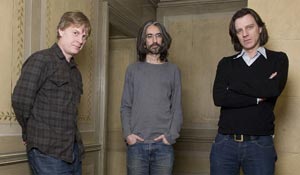 As well received as the films were on their UK television debut, Jarrold is pleased that they have found what he sees as their natural home in U.S. theaters. "They're films, in the end," he says. "There are so many details in the sound design, for example, that are just subliminally present on TV, but in the cinema, you really get it. And my biggest inspirations for the film were cinematic ones: film noir, conspiracy thrillers like 'The Parallax View' and 'The Conversation.'"
It's no accident, Jarrold emphasises, that these reference points are American. (He's guarded but curious about the proposed U.S. remake by Ridley Scott.) "My idea from the start was that this was a very British story told in an American way, using American genres. So there's an interesting irony in switching the location."
He pauses, before audibly brightening. "But the U.S. response to ours — at Telluride, in New York — has already been terrific. There's been more interest there, dare I say, than here in Britain. It's a picture of England they're not used to seeing."
The "Red Riding" trilogy is in limited release now.